Description
SOLD OUT

Tarpon Cay Lodge:
It's not hard to fall in love with San Felipe. This simple Mexican fishing town may be the best
kept secret on the Yucatan. The streets are swept and cleaned by a small contingent of housewives
that walk the roadways and sidewalks at 3:00AM every morning. Its small pastel colored
buildings line narrow streets and at times it seems the number of Pangas on the beach awaiting
their captains outnumber the humans. Tarpon Cay Lodge is positioned on a small marina in
downtown San Felipe overlooking the sea. The simple, clean and uniquely down-home
accommodations serve as a perfect home base for a tarpon bonanza of epic proportions.
One of my favorite aspects of the fishing program at Tarpon Cay Lodge is the split shift day.
Anglers hit the water at dawn most days and return to the lodge around 11:00AM. A fantastic
lunch is prepared and time is allotted for a valuable and restorative siesta in the comfort of an air
conditioned room. Anglers then head back out around 3:00PM and fish through the sunset,
returning to the lodge for dinner around 7:00PM.
Neutrally buoyant flies are effective when tied with deer hair or small amounts of foam. Top
water gurglers also prove irresistible, as surface strikes are vicious and spectacular. Baitfish
patterns and various suspended shrimp imitations are also readily devoured. I've found that
rigging one rod for top water and one for submerged baitfish is a deadly combination.
Most of the fishing at Tarpon Cay Lodge occurs over very shallow flats that are covered by a
dark colored, broad leafed turtle grass. Roving schools of tarpon in the 5lb – 15lb class can
number just a few or many hundreds. The guides are excellent at scanning for rolling fish and
expertly pole the boat to intercept a school on the move to get you in position for a cast. At times
you'll anchor the boat and just wait as football field sized school of fish cruises to within casting
range. Launch your fly in the general direction and retrieve with a brisk strip to keep the fly off
the bottom. After that, it's just a game of watching your fly disappear into a big, black bucket of
a mouth and holding on! The resulting aerial display is breathtaking, as they tail-walk, leap, and
launch themselves into the air with reckless abandon.
The name of the game is to keep a sharp eye out for nervous water and rolling fish. At times we
would nudge close in to the mangroves to fish the channels, but rarely ventured into thick cover.
All in all it's hard to beat a trip to Tarpon Cay when it comes to consistent action, gut wrenching
fun and unbridled warm Mexican hospitality.
Accommodations at Tarpon Cay Lodge are simple, clean & air conditioned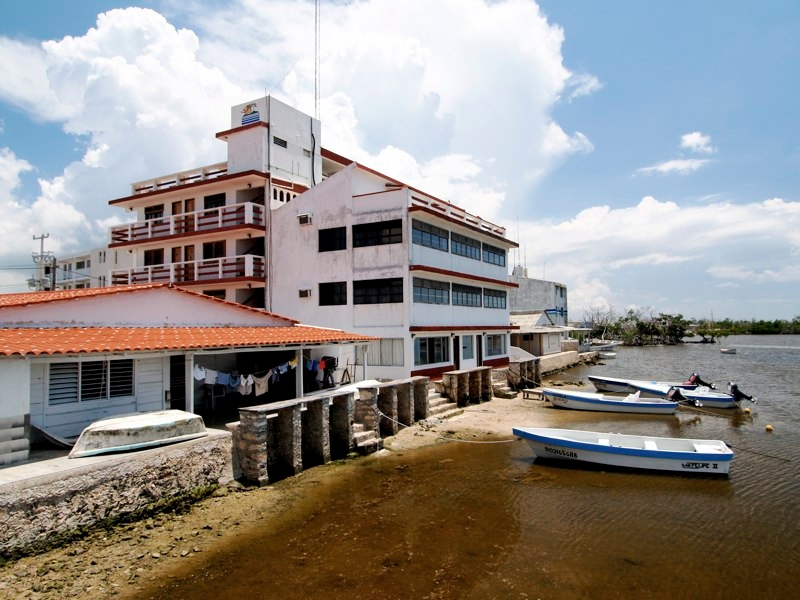 Accommodations and Meals:
The accommodations at Tarpon Cay Lodge are comfortable, bright, and enriched with traditional
Mexican decor. With the ocean at its doorstep, the sea breeze and beautiful scenery refreshes the
spirit after a long day of fighting Tarpon. A spacious lounge provides dining areas, comfortable
seating for relaxing, and a nice workspace for fly tying or working on tackle at the day's end. As
you venture upstairs, you will find spacious guest rooms equipped with air-conditioning, fans,
and a full private bath with shower. Rooms are bright with a nice ocean view. There is a
housekeeping service that cleans the room and replaces linens, towels, bottled drinking water,
cups, and bar soap each day. A unique feature of the lodge is a nice rooftop balcony. It provides
a splendid 360 degree view of the charming area surrounding the lodge – perfect for after-dinner
The meals are another highlight of your stay at Tarpon Cay Lodge. Hearty portions with a local
flavor are an absolute culinary delight for the big appetite. Breakfast is ordered the night prior
from a full menu (American and Mexican dishes). Your breakfast will be promptly served in the
morning to assure you an on-time start of your daily fishing adventure. Lunches consist of madeto-
order sandwiches, snacks, and assorted beverages.
Upon your return from an exciting day of tarpon-mania, dinner is served. Entrees include a lot of
fresh fish with some chicken, pork, shrimp, or sometimes lobster in-season. The meals at Tarpon
Cay Lodge are truly unique and delicious. Additionally, the lodge can accommodate most dietary
restrictions. Let the staff know and they will prepare an appetizing alternative that is often looked
over with envy by your fellow dinner guests.
Fisheries:
While the larger migratory tarpon inhabit off-shore areas in deeper water there are plenty of
opportunities for smaller fish in-shore inhabiting clear water. Baby tarpon are found while poling
large flats in knee deep water, cruising along mangrove edges, or buried amongst the mangrove
roots waiting to pounce on passing prey. When hooked, these fish are high fliers and 9 times out
of 10, they instantly go airborne after hooked. Floating lines are the standard for in shore areas
targeting babies and the water remains crystal clear in most areas. We recommend fishing leader
systems that are 7 – 10 feet long with no less than 50lb shock tippet. In some cases, many of the
guides will request leaders of even longer lengths when fish become spooky.
The in-shore fisheries are much more of a numbers game. Anglers hooking 5 – 10 per day with 2
– 4 fish landed should consider this a good day. For the larger migratory fish, even just hooking
one of these behemoth tarpon is an accomplishment.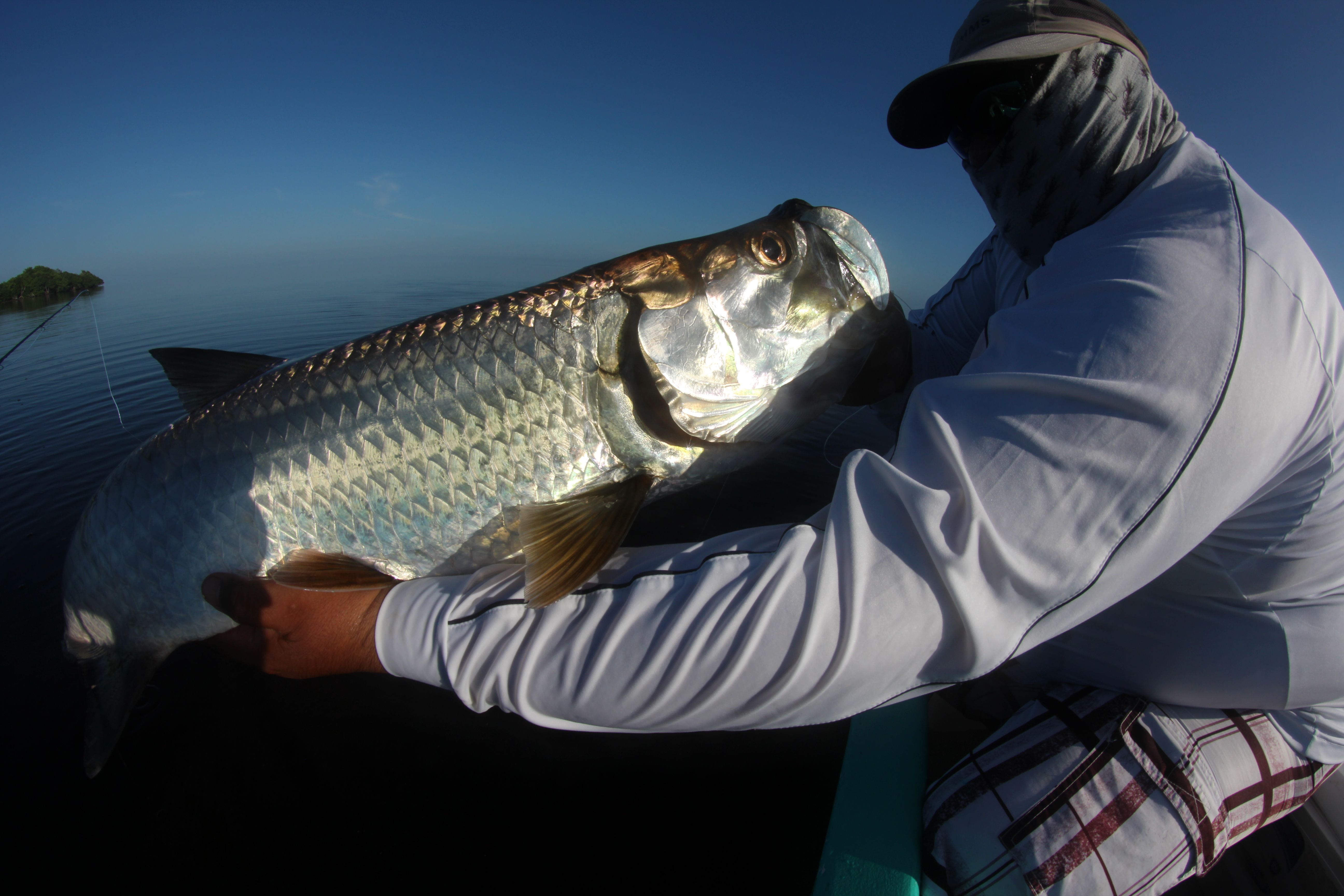 Custom Itinerary
Arrive in Cancun International Airport (before 4PM): TBD
Transfer to Tarpon Cay Lodge. Approximately 3.5 hours by air
conditioned van (transfer included and pre-arranged).
Settle in and prepare tackle for fishing the next day.
5 days of guided fishing at Tarpon Cay Lodge.
Typical daily schedule:
5:00-5:30AM:  Wake up and coffee
6:00AM: Breakfast
6:30-11:30AM:  Fishing
12:00-3:00PM:  Lunch and siesta
3:30-7:00PM:    Fishing
7:30PM:    Cocktails and dinner
Note: Please keep in mind your daily schedule may shift depending on tides and fishing conditions.
Dates:        April 14th – 21st
Rate:       $3,775.00 per person based on double occupancy for a 7 night/6 day package
Included:
Accommodations and meals at the lodge, guided fishing, non-alcoholic beverages, guest taxes, fishing licenses, Internet access, ground transfers to/from the Cancun airport.
Not Included:
Airfare, meals in Cancun, alcoholic beverages, staff & guide gratuities, phone service, laundry service, fly fishing gear and tackle.
Note that anglers who miss their scheduled transfers to the lodge will be responsible for any incurred costs related to delays and special transfers.
To Join the trip To Join the trip click on the link below:  
https://reservations.flywatertravel.com/reserve/res10576-peninsula-outfitters-bi
For more information please contact:
Bill Drewry
Peninsula Outfitters
(360) 394-1599
bill@peninsulaoutfitters.com
OR
Dylan Rose
Fly Water Travel
800-552-2729
dylan@flywatertravel.com
The Tarpon of San Felipe will leap, tail-walk and light up your 8-weight rod!
The babies will eagerly devour well placed flies!
The split shift fishing day allows anglers to fish through sunset.