Description
Hidden within Southern Colorado's San Juan Mountains is a valley so beautiful that you will marvel at its perfection. With 970 acres, two fully restored historic cabins, a herd of elk and three miles of fabulous fly fishing flowing through it all, it is a place that will inspire all who visit to want to return again.
Ideally suited to private parties or families of four or more, El Rancho Pinoso smacks of understated quality, utter privacy, and indescribable beauty. Anglers have exclusive walk and wade access to two remarkable properties including the home waters of El Rancho Pinoso's Rio Blanco and seven miles of the meandering Weminuche. With easy wading, great dry fly fishing, and plenty of trout pushing 20 inches, this undiscovered gem is one of the finest and most fairly priced private water venues in the West.
While each of the ranch's two cabins can take at least six guests, the ranch does not mix groups ensuring each group's privacy. Non-anglers can enjoy guided rides on the property as well as well as a host of interesting activities in the surrounding area.
El Rancho Pinoso Location:
El Rancho Pinoso is located in southwestern Colorado, approximately 20 miles from Pagosa Springs.
El Rancho Pinoso Fishing Program:
El Rancho Pinoso's fishing program is based around fly fishing two distinct private systems: Rio Blanco and the Weminuche. All rivers are walk and wade systems that have benefited from extensive stream restoration work. Typically anglers are picked up between 8:00 AM and 9:00 AM and return to the cabins between 5:00 PM and 6:00 PM. When fishing the home river, anglers will return to the cabins for lunch. Due to the exclusive private party nature of El Rancho Pinoso, the schedule can easily be adjusted to meet the needs of each party. Since a number of experienced local freelance fly fishing guides assist head guide and manager Dave Liebson, we ask that guides be tipped directly at the end of each day.
When fly fishing the off premise properties (the Weminuche), anglers have the option of stopping for dinner at Kipps, a casual Mexican restaurant with outdoor seating (not included).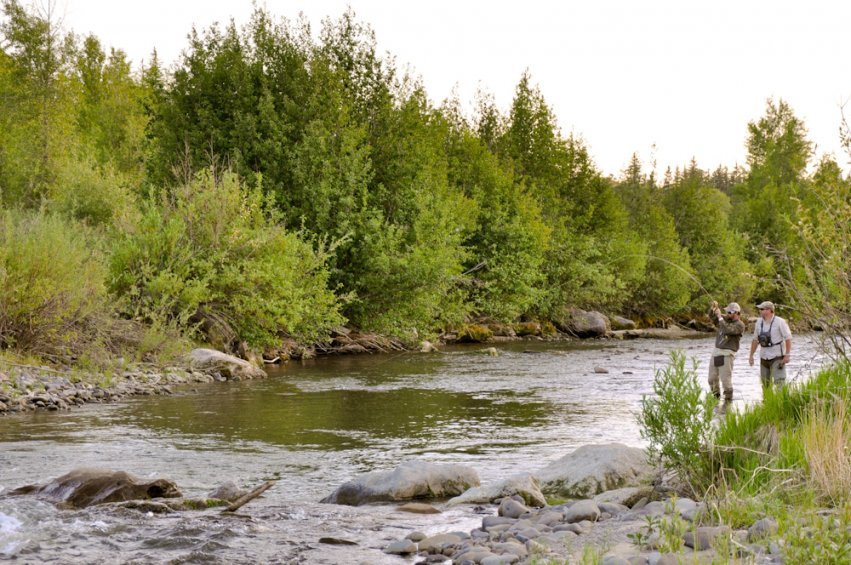 El Rancho Pinoso Fisheries:
Rio Blanco: The Rio Blanco is the home water and the centerpiece of El Rancho Pinoso. The 3 miles of water is fully restored with numerous deep pools and easy wading. The river is easily crossed in most tailouts and it is dominated by rainbow trout. Many of these fish are in the 16-21 inch class with larger fish present.
Weminuche River: The Weminuche is a handsome, fully restored, meandering meadow system with a full seven miles of private water. The river is located approximately 80 minutes from El Rancho Pinoso and boasts good populations of both brown trout and rainbow trout in the 16-21 inch class. The Weminuche has exceptional hopper/dry fly structure and has some very large browns.
Stillwaters: All of the above properties have between one and three private ponds that are home to large trout in excess of 20 inches.
Additional Experiences:
The ranch has six horses and a wrangler on-site. Riding is included in your package price.
The surrounding region also has a wealth of places to explore just a short drive away:
To the south in New Mexico, is the historic Cumbres & Toltec Scenic Railroad that embarks from Chama; the charming town of Taos with the still-inhabited, thousand-year-old Taos Pueblo; and Santa Fe, with its long Spanish heritage, its famed adobe architecture, and incredible array of art galleries.
To the north is Pagosa Springs, gateway to the alpine splendors of the San Juan Mountains and the Weminuche Wilderness, and home to the famous hot springs and spa.
To the west is Durango, a truly authentic Western town, with the historic Durango & Silverton Narrow Gauge Railroad, galleries and museums, and stellar restaurants. Durango also provides access to Mesa Verde National Park, one of the world's great cultural treasures, and the San Juan Skyway, a 235-mile scenic loop through mining towns, ski resorts, and staggering mountain splendor.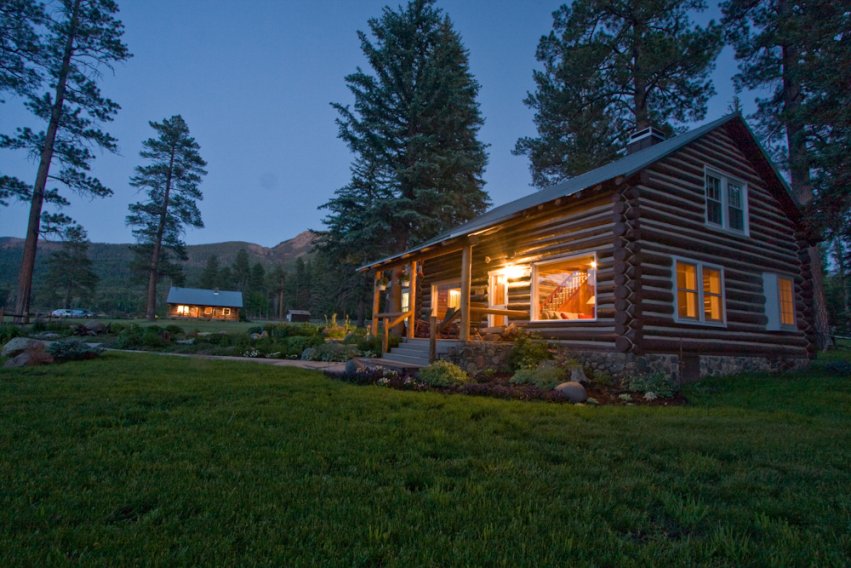 El Rancho Pinoso Accommodations and Meals:
El Rancho Pinoso has two fully renovated historic log homes on-site. For larger groups, both homes may used (Note that this will change the package pricing). For smaller groups one home will suffice. Fully catered packages include three meals per day. Guests are responsible for bringing their own alcohol.
The Log Cabin:
The historic two-story Log Cabin has four bedrooms, three bathrooms, and sleeps seven. The cabin offers the convenience of a full kitchen, living room with fireplace, washer & dryer, and telephone & internet access (if getting away from it all requires the occasional check-in).
The Cowboy House:
Also recently updated, the Cowboy House offers similar features as the Log Cabin (full kitchen, working fireplace in living room, washer & dryer, and telephone & internet access), two baths, four bedrooms that can sleep a total of eight. And trust us, you'll sleep very well. It is the larger of the two cabins.
**Note: Ranch staff members sleep off site or in homes on the other side of the property.
El Rancho Pinoso Itinerary:
Sunday / September 3rd:
Arrive Durango, CO:
You will need to rent a car to drive to the ranch
(approximately 1 hour, 40 minutes driving time).
You will want to stop in Pagosa Springs for any
alcoholic beverages before driving into the ranch. There
is a liquor and wine store immediately west of the City
Market on the west side of Pagosa Springs (also known
as Pagosa Lakes).
Check-in time: 4:00PM
Upon arrival Dave Leibson, the lodge manager, will
help you get settled in and answer any questions you
might have about the facility and the overall program.
After you get settled in you are welcome to fish the
ponds (this is a rest day for the river).
Your package includes all meals. Dinners will be
prepared in the Cowboy Cabin and served in the Log
Cabin. Meal times may be flexible to accommodate
your schedule, but dinner is typically served around
7:00PM.
Monday – Thursday /
September 4th – 7th:
Four full days of guided fishing.
Your guides will arrive at your cabin at 8:00AM each
morning for your full days of guided fishing. Lunch is
provided.
We expect you will fish the home waters of the
Weminuche both days. Ultimately the decision on
where to fish will be determined by your group's
preferences, fishing conditions and the discretion of the
Ranch Manager.
A Typical Day at El Rancho Pinoso:
8:00AM: Breakfast
9:00AM: Depart for fishing
12:30PM: Break for lunch
5:30PM: Return to the lodge
7:00PM: Dinner
Non-anglers may elect other activities including
horseback riding or visiting surrounding areas.
Friday / September 8th: After breakfast the group will drive back to Durango to
catch your flights home.
Check-out time: 11:00AM
Depart Durango,CO
$3,540.00 per person for a 5 night / 4 day package, based on a group of 6
Included: Accommodations, meals, guided fishing, flies and terminal tackle for guided
fishing days, horseback riding, taxes.
Not Included: Airfare, transportation to the lodge, alcohol, fishing licenses, gratuities.
Deposits and Payments:
50% of the total is due 14 days after receipt of invoice. The remaining balance is due 60
days before the trip. Trip Cancellation Insurance is recommended.
To reserve a spot on the trip, clic on this link or contact either Bill Drewry or Charles Gehr:
Bill Drewry, Peninsula Outfitters
360.394.1599
bill@peninsulaoutfitters.com
Charles Gehr, Fly Water Travel
800.552.2729
charles@flywatertravel.com